What Makes The New Renaissance Different?
Well, for starters, Chiropractic coaches and practice management groups come and go, but Renaissance has been around since the 1970's. It was started by Dr. Joe Flesia and Dr. Guy Riekeman - past president of Life U - and several years ago, the torch was passed to Dr. Kevin Pallis.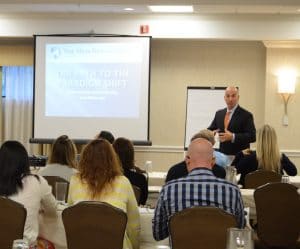 Dr. Kevin mentors and inspires DCs on not only how to attract high-quality new patients and retain their patients, but also how to increase referrals. He guides DCs to revolutionary personal and practice accomplishment and growth.
Our members also hail from decidedly humanitarian backgrounds. Many have done missionary work in foreign countries, been Big Brothers or Sisters, adopted kids from foreign countries, adopted foster kids, and more. One of our mantras is "Healthier People = Healthier Planet" and we believe in that wholeheartedly. We have a world project called Love Has No Color which helps third world condition kids on a Native American Reservation in Montana. We love helping people and we love seeing people become the best they can be.
We desire to live great lifestyles. There are no vows of poverty in TNR. Face it, you got into Chiropractic to either help people or live a great lifestyle. In TNR, it's not either or, it's BOTH! TNR is all about helping DCs move from where they don't want to be to where they want to be.
Motivated DC + Mr. Miyagi + complete education system = SUCCESS
DCs who are willing to become more successful have come to the realization (this is key!) that their academic journey at Chiropractic College did not prepare them for the ultra-successful practice of their dreams, especially when they have had to start from scratch. Working another DC's dream will not necessarily prepare you either. You didn't go through all the time, effort, and expense of becoming a DC just to feel unfulfilled professionally, financially, and emotionally.
DCs who are attracted to our family are usually people who have had meaningful mentors in their lives who guided and helped them navigate through the uncharted waters of high-level athletics, relationships, adversities, or challenges. Quite often, these DC "Karate Kids" have had multiple "Mr. Miyagis" in their past and still call upon them today. It's been their key to success, regardless of what they are tackling at the time. These relationships have allowed their inner gifts to become actualized. For them, reaching goals and achieving accomplishments is a way of life; while others merely dream of accomplishing these goals and have no confidence that they could actually attain them.
Isolation is the bane of many great DCs. Going it alone is a dangerous, inefficient, and expensive journey to success, fraught with landmines of get rich quick schemes, hard sales, expensive new patient attractors, and more. Having someone who has your back and understands you makes all the difference in the world. You'll have someone to call upon with experience and training, but more than that, someone who truly cares about your success and well-being.
TNR has a reputation for being a community. Imagine belonging to a group of like-minded DCs who love being DCs. There is a profound sense of belonging while also being recognized as an individual. Being authentic to one's self is prized in TNR. We have so many one of a kind characters in our group and that is what makes the community of TNR so special.
The secret to success?
Educated patient = $$$
The expense and the stress of replacing departing patients is a huge factor in doctor burnout. If your patient education system isn't rock solid, you will fall prey to the ticking time bomb of patients staying in your office for less than a handful of visits. An educated patient may be worth 10, 20, 50 times an uneducated patient! Chiropractic success is really just a simple formula: educated patients = practice growth.
Many DCs are ashamed or humiliated by their current practice statistics. Maybe you've gotten a little (or a lot) off course with how you truly want to practice. At TNR, we don't care about where you've been, it's where you want to go that is important. Dr. Kevin and the community of TNR will support you and encourage you in your journey.
With TNR, it's never been about all the problems, limitations, or stories about why a DC doesn't have a dream practice. There's a magical or defining moment when the DC takes the mental shift away from the problem and towards the solutions. Their practices and their lives improve exponentially and are never the same again.