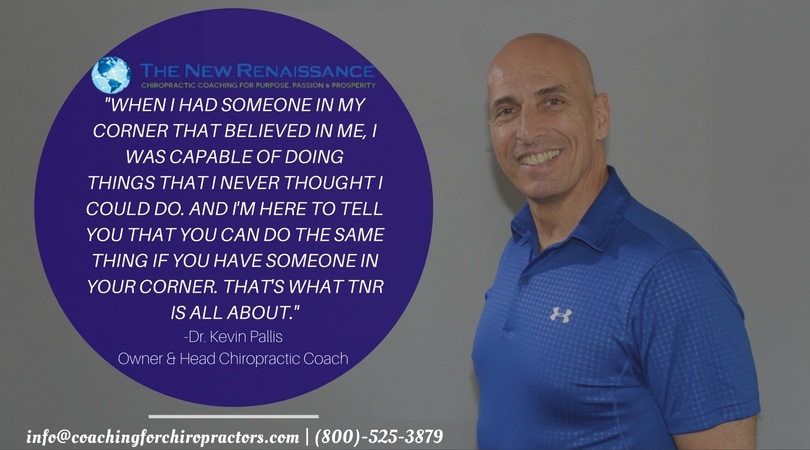 Often referred to as Mr. Miyagi from The Karate Kid, Dr. Kevin has a unique way of liberating your dormant hidden potential. In a society obsessed with trends, fads, and ever-shortening attention spans, Dr. Kevin instead offers the adventure of a lifetime with a single goal in mind; discovering, uncovering, and realizing your true potential. This leads to you helping lots and lots of people, practicing the way you want, and earning a killer income. No short-term expensive band-aids, next best thing software, and marketing tricks that are here today, gone tomorrow…it's always about long-term professional and personal growth with you.
Dr. Kevin believes in you and sees things you may not even see in yourself. He gets you to believe in yourself and your confidence soars. Remember when you were a kid and had that feeling that you could accomplish anything? That feeling returns and transforms your practice and life. All those tricks and gimmicks that never seemed to yield results turns from potential energy into kinetic or usable, practical energy. This produces payoff, anywhere, with or without insurance coverage. It's vital to know you don't have to turn in your humanitarian shield to be successful.
He is also referred to as the king of emotional connections and relationships. Have you ever wondered why people with 100% insurance coverage don't participate in your office? It's because there was no relationship. With DCs, there is often too much focus on pain relief along with insurance billing and not enough on patient care and relationships. When pain relief and insurance billing take center stage, wellness care and family care, along with acute care, are put on the back burner. Your focus gets distracted and you concentrate on the little picture instead of exponential growth. This is the starting point of many of our newer members.
This sounds so counter-intuitive and yet this is the difference that makes the difference!
By making the shift towards better communication skills and relationships, and ultimately helping the patient understand Chiropractic, your office is transformed into a 'category of one', a community that people want to participate in, rather than a place they have to be convinced, sold or closed. Regardless of how many DCs are in your community, patients will drive by practice after practice to get to your office. Fun, adventure, quality new patients, retention, referral, and profit are welcomed back in your office.
Dr. Kevin's style and teaching is not for the average DC, rather it's for the DC who wants to rise above mediocrity and is willing to do what it takes. Go from a private to a general, a chorus member to lead singer, a college drop-out to Bill Gates.