What's Stopping You From Being Successful?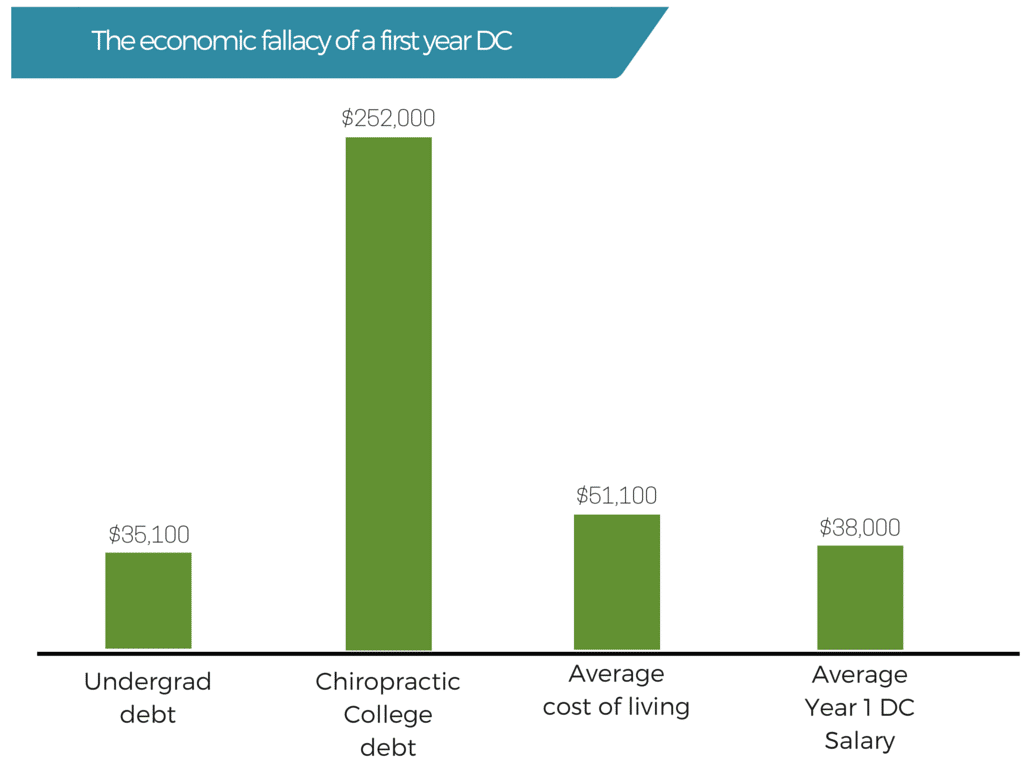 Whether you've been in practice for a few years or are brand new, are there some things that are preventing you from being successful? 
Ignoring these things or sticking your head in the sand will not make them go away.
Are you in debt? It's not uncommon for new doctors to have debt levels in excess of $500,000.
The  average income of a first year DC (usually an associate) hovers at $38,000 a year. The economic strategy for these DCs won't work and it won't get better with time!
It's not your doctor skills that are holding you back, it's your people skills, or lack thereof.
They didn't teach you how to be successful in Chiro College!
It's difficult, if not impossible, to figure things out on your own. You must accept guidance.
The quicker you establish a permanent economic advantage in your office, the quicker your pain stops.
With guidance, you can experience a 3,5,10x increase in your current income…without having to sell the latest new  gadget, add on, modalities, or rehab, unless you choose to.
This spells true economic advantage in any language!
From the vantage point of those not willing to accept guidance, the cost of joining seems prohibitive and impossible; but from the vantage point of where they are going, it seems like the only decision to make.
Asking for help tells a lot about who you are. We call it being coachable. Continuing to do the same things that don't work handicaps a DC's success, big time.
To get out of your current circumstances, you are going to have to invest in yourself and get that person in your corner who will guide you and not let you slack off.
For years now, Dr. Kevin has attracted bold and adventurous DCs who are willing to usher in a new dimension of economics, service, extreme profitability, and fun into their lives.
They've got a pretty good idea of how they want to practice, they just need someone who will show them how to make it work.
They are willing and able to embrace an opportunity, rather than continuing to do what is clearly not working!
Some of his clients call him Mr. Miyagi, you know, wax on, wax off.
He has an innate gift of exposing DCs' hidden, silent roadblocks on their journey to professional and personal growth. He also shows DCs how to create relationships of trust with their patients.
All of us have experienced people in our lives not getting us, understanding us, or even making us feel like we're average.
After awhile, it's easy to get lost or feel let down. As a result, we lower our expectations and we don't live for a cause bigger than ourselves.
This is where we get stuck in practice!
The first few years you say to yourself, "things will get better." But they don't. After a few years of being stuck at average levels of income, you realize the problems you face aren't going away.
Maybe your patients stay only for a few visits, they won't pay outside of insurance, they laugh at your recommendations, negotiate on a constant basis, or have a marked disrespect for you. 
Too many DCs are going it alone. In isolation they attempt to figure it out on their own instead of accepting help from an expert.
Dr. Kevin appeals to and attracts DCs who have always suspected there is an untapped potential within and are willing to accept guidance to realize this potential
Having someone in your corner that believes in you, you will be capable of doing incredible things that you never thought you could do. You will feel unstoppable.
You come off your island of isolation and let go of the stubborn resistance that tells you that you need to reinvent the wheel or someday you're going to figure it out on your own.
Dr. Kevin will be in your corner, he will believe in you, and he will hold you accountable while making it fun. This is rare in our profession.
Perhaps you have dabbled in the impersonal, cookie cutter, cut and paste, box store online coaching and have experienced first hand its fatal flaws and shortcomings.
One thing you know for sure: you have individualized concerns and only individualized solutions will get you to where you want to be.
If you are interested in searching for the fool's gold that is so prevalent in the Chiropractic world today, TNR would not be a great fit for you.
Dr. Kevin and TNR are not designed to appeal to just any DC.
To be successful, you are going to have to adopt a winner's strategy.
One of the surprising discoveries that you will make upon joining is that not only are your economics changed forever, so will your relationships with your spouse, family, kids,  and friends. It's amazing!
Hobbies, vacations, interests outside of the office, and something as simple as staying in shape, all seem to fall in place, where before you felt so overwhelmed and thought you never had enough time.
Adventure, fun, and extreme profit make their way into your life once again.
It's not only financial success our members enjoy. We also embrace social cause with our world project called Love Has No Color. LHNC helps Native American kids on a reservation reclaim their hope, health, and dignity.
Not only is helping these kids the right thing to do, it's the smart thing to do. Members report personal bests in patient visits and income being broken over and over with participation in LHNC.
Patients just love getting behind social causes that they can become involved in!
If you have been looking for just the right group to bring out the best version of yourself, look no further. You've found a home at last.