Double or triple your practice!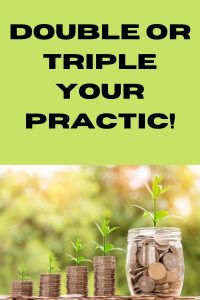 Double or triple your practice using Chiropractic!
 There is a lot of noise online and offline about building your practice using everything except Chiropractic. This doesn't matter to some Chiropractors as long as their income grows, but sadly their overhead and vulnerability to recession also grow.
 At some point, the discerning DCs will notice that the percentage of Chiropractic in their offices is dwindling.
Why go through all the time, sweat, and money of becoming a Chiropractor only to become a salesman of the latest bright shiny object for your patients?
With less Chiropractic in their offices, they also notice that people have less and less respect for them as doctors.
Their patients adhere less and less to recommendations for care or paying outside of insurance.
These doctors see fewer and fewer kids coming into their office and less difficult cases being cared for.
Like anything else, there is help if you know where to look.
This Christmas, give yourself the gift that lasts: the gift of guidance by a person who knows a thing or two about doubling or tripling a practice.
Looking for software, technique, bright shiny objects, or academics to double or triple your practice is like asking a barometer to tell you the temperature.
It's simply the wrong tool for growth.
If you've been in practice for a while, it's easy to think you know everything and you may refuse to ask for guidance or direction.
Keeping an open mind and not being 'too smart' to be coached will reward you past your wildest dreams.
You don't have to endure the pain of a practice that just pays bills and is a huge headache.
Do something about it! Set up a free consultation so we can talk.