Are you giving your best?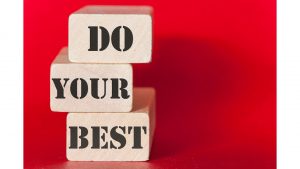 It's awfully easy for Chiropractors to slide into a zone of mediocrity as you find in a medical setting, giving an okay effort instead of giving their best. The problem is, it seeps into all areas of their life.
 I see it every day: the look of a doctor who has accepted reality and has settled in to be just an average Chiropractor. I see Chiropractors who believe in the memes and hoaxes of the medical and political worlds. Miracles are off the table and their best effort has not been seen in years.
They have become consumed with financial woes, new patient scarcity, CA drama, spending so much time with computer software and insurance retrieval, social media addiction, compliance issues, and the like.
Do you remember the feeling you had when you began your Chiropractic journey? It was a privilege and honor to serve.
What happened?
Did the world wear you down? Today, is it a grind?
With over two decades of guiding Chiropractors, I have seen that it always comes down to input. Without constant and continual input, doctors will begin to fade and get jaded, will become mechanical and boring, and, without question, they will lose their love and zest for Chiropractic.
In TNR, input includes reading selected books that are never on the bestseller list, receiving high-level coaching calls, attending specialized training every couple of months (not license credit snoozefests), and learning how to give your best to your practice members and your families.
There's nothing wrong with just doing okay and never doing your best.
It's just not a part of TNR.
 If you find yourself in the above circumstances, click on the button at the top of the page to set up a free consultation with me. Find out if TNR is the family you have been looking for.