Is It The End Of The Road For Some Chiropractors?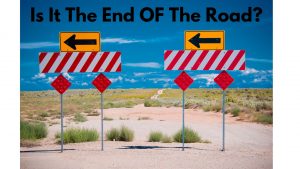 We've seen Chiropractic Associations shrivel up and ask their members to roll up their sleeves, we've seen uncommitted Chiropractors accept the mandates of the pharmaceutical driven world, and we have a whole lot of lost Chiropractors that are thirsting for some type of leadership.
This plandemic was lab-driven and put profit over people. Will you surrender to the primitive, feudal use of force or will you continue to help people at the highest level?
 It all comes down to why you are a Chiropractor: to earn a superb income, to bring a Big Vision of health to people who only know disease, and to educate them about how they still have a choice in regaining their health. The weaker the "why", the closer you are to extinction, and the easier it is to continue to be a part-time associate, a vacation coverage Chiropractor, etc.  The bigger the "why" leads to a life of meaning, purpose, and adventure.
In the Green Books, many variants of the famous disease of the last two years are seen, from TB to vaccines, antibiotics, fluoridation of water, and the treatment of the mentally and emotionally challenged. These concepts elude the majority and are only recognized by the minority. It is similar to pollution: you aren't going to do anything about it until it affects you personally.
With a lukewarm effort like we are experiencing now, Chiropractic just won't grow, individually or collectively.
Some principles never change. Success is assessable to all Chiropractors but it shines only on the few, not the many.
More personal bests were achieved by TNR Chiropractors over the last two years than at any other time in TNR's 20-plus years.
It may be the end of the road for face-in-the-crowd Chiropractors, but not once-in-a-lifetime Chiropractors.
Some things never go out of style.
Click on the button at the top of the page to set up a free consultation with me. Now is the time to find out more about TNR and my coaching program.