Is It Too Late For Your Practice?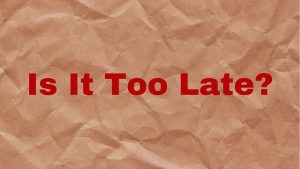 We are going into our third year of deception, confusion, doubt, and fear. You thought it wouldn't affect you and that it would blow over; yet, it still remains. It is the central theme in society today.
 Urgent, present-day events sure have a way of exaggerating their relevance. The hoax says you must pay attention to it and you must become a card-carrying member of the obedient, misguided, scared majority.
When did it become irrelevant to be healthy?
 When did it become fashionable to be sick, giving the person a celebrity status?
In every untoward circumstance in history, there were those who remained centered while the majority lost their minds.
Pain relief is good as far as it goes. Health is the hub from which all of life emanates.
The only thing left for us to do currently is to demonstrate, demonstrate, and demonstrate.
No, we don't do this with protests. We do this by allowing people to live their lives with less compromise to their nerve system.
Healthier people create a healthier planet.
 Healthy people would not have such a disregard for human life that they would want to participate in war, create pollution, use deceptive practices in medicine with man-made viruses that create havoc, etc.
This is still true today: a few great Chiropractors can and will change the way the world views disease and health.
It can't happen without you.
 Don't ask someone else to do the heavy lifting for you while you wait until the coast is clear. Come out of hiding, open your mouth, and take care of people now.
The world is looking for the next once-in-a-lifetime Chiropractor.
 Would you like to find out more about how I help guide Chiropractors to step up so they can serve more people? Click on the button at the top of the page and set up a free consultation with me.