Have things that matter in your life drifted away?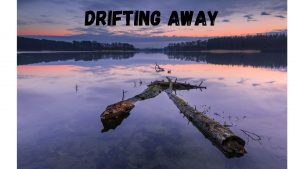 Is this your story?
 "As I sit down to write this letter I still don't know how to express to you the wonderful gift you have given to me. I can see the light again! My path and purpose are clear and the cloudiness of self-doubt and worry are starting to lift. I am sleeping 6 hours every night and stepping into my office with more energy and purpose than I have had in a long time. You are giving me the tools to help change lives. You are giving me the tools to help change my life. I always felt alone knowing that my purpose is one that few understand and many will try to change. I now feel stronger because I have a family, an unstoppable force, behind me. Your guidance and friendship are unparalleled." 
 As Chiropractors, we certainly live busy lives. We are caring for lots of people in our offices and facing rejection on a daily basis, so it's easy to get ground down. It's tempting and seductive to get pulled into things and circumstances that just don't matter.
One of the ways I help Chiropractors discover unparalleled heights of achievement is by examining the things in their lives that are robbing them of spirit.
 Maybe something seemed like a good idea at the time; however, is it now draining you of your energy, purpose, and passion?
Performing DOT physicals will not help your spirit, your love of Chiropractic, or your office. You are being distracted and existing in scarcity.
Letting practice members walk all over you and people-pleasing to excess silently grinds you down and makes growth, purpose, and passion all but impossible.
How about 'Deal or No Deal' when it comes to recommendations and playing the insurance coding and deductible game?
Something very counterintuitive during this plandemic is the Chiropractors that stayed in their lanes and stuck to the principles of truly serving people with Chiropractic are having record months, personal bests, and enjoying their lives to the fullest.
TNR has never been about appealing to all Chiropractors. We appeal to discerning ones who are ready to move on from the cookie-cutter world of coaching.
We provide individual coaching for doctors who want more of what matters in life: purpose, passion and prosperity.
Reach out if you are ready to make the journey. Click on the button at the top of the page or call my office to set up a free consultation.